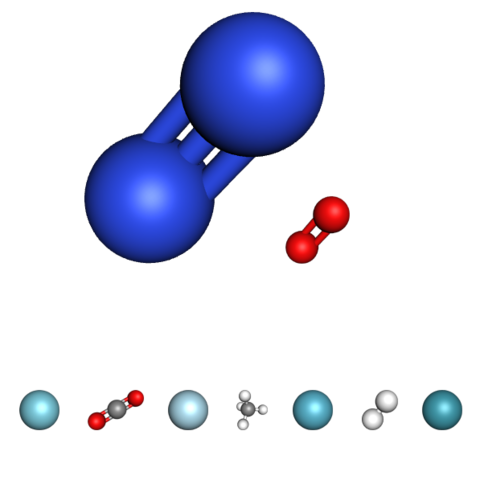 Air
CAS Number

132259-10-0

UN1002 (gas)
Liquid / Gas Volumes
Calculate a liquid or gas volume or a mass
Liquid Phase
At boiling point at 1.013 bar
Gas Phase
In standard conditions (1,013 bar, 15°C)
Molecule phase diagram showing the transition phases between solid, liquid and gas as a function of temperature and pressure
Molecular weight

28.960 g/mol

Content in dry air

/

Critical Point

Temperature

-140.70 °C

Pressure

37.74 bar

Density

316.61 kg/m³

Triple Point
Compressibility factor Z

9.994E-1

Cp/Cv ratio γ

1.4028

Gas density

1.292

kg/m3
Heat capacity Cp

1.0059

kJ/(kg.K)

Heat capacity Cv

7.1709E-1

kJ/(kg.K)

Specific volume

7.738E-1

m3/kg
Thermal conductivity

24.36

mW/(m.K)

Viscosity

1.7218E-4

Po
Compressibility factor Z

9.996E-1

Cp/Cv ratio γ

1.4022

Gas density

1.225

kg/m3
Heat capacity Cp

1.0062

kJ/(kg.K)

Heat capacity Cv

7.1761E-1

kJ/(kg.K)

Specific volume

8.164E-1

m3/kg
Thermal conductivity

25.499

mW/(m.K)

Viscosity

1.7962E-4

Po
Compressibility factor Z

9.997E-1

Cp/Cv ratio γ

1.4018

Gas density

1.184

kg/m3
Heat capacity Cp

1.0065

kJ/(kg.K)

Heat capacity Cv

7.1803E-1

kJ/(kg.K)

Specific volume

8.448E-1

m3/kg
Thermal conductivity

26.247

mW/(m.K)

Viscosity

1.8447E-4

Po
Applications
Examples of uses of this molecule in Industry and Healthcare
Chemicals
Air is used as oxygen source for the synthesis of many organic compounds, such as ethylene dichloride, acrylonitrile and acrylic acid from propylene. Those three compounds are used for the production of plastics.
Hospital care
Air is used for the ventilation of patients.
Laboratories & Research Centers
Pure air is used to calibrate and run environmental emission monitoring equipement, industrial hygiene monitors and trace impurity analyzers. It is used as a balance gas for many calibration mixtures. Air is also used as combustion oxidizer for gas chromatograph flame ionization detectors and atomic absorption spectrometers.
Metal
Hot air is used for combustion in blast furnaces for the production of liquid metal from iron oxides.
Oil & Gas
Air is used as oxidizing compound in Claus process to convert sulfur into sulfur dioxide. Compressed air is widely used to action pneumatic systems for various equipment and instrumentation.
Metals
Aluminium

Satisfactory

Brass

Satisfactory

Monel

Satisfactory

Copper

Satisfactory

Ferritic Steel

corrosive in presence of water

Satisfactory

Stainless steel

Satisfactory

Zinc

Satisfactory

Titanium

No data
Plastics
| | |
| --- | --- |
| Polytetrafluoroethylene | Satisfactory |
| Polychlorotrifluoroethylene | Satisfactory |
| Polyvinylidene fluoride | Satisfactory |
| Polyvinyl chloride | Satisfactory |
| Ethylene tetrafluoroethylene | Satisfactory |
| Polycarbonate | Satisfactory |
| Polyamide | Satisfactory |
| Polypropylene | Satisfactory |
Elastomers
| | |
| --- | --- |
| Buthyl (isobutene- isoprene) rubber | Satisfactory |
| Nitrile rubber NBR | Satisfactory |
| Chloroprene | Satisfactory |
| Chlorofluorocarbons | Satisfactory |
| Silicon | Satisfactory |
| Perfluoroelastomers | Satisfactory |
| Fluoroelastomers | Satisfactory |
| Neoprene | Satisfactory |
| Polyurethane | Satisfactory |
| Ethylene-Propylene | Satisfactory |
Lubricants
| | |
| --- | --- |
| Hydrocarbon based lubricant | Satisfactory |
| Fluorocarbon based lubricant | Satisfactory |
Materials compatibility
Recommendations : Air Liquide has gathered data on the compatibility of gases with materials to assist you in evaluating which materials to use for a gas system. Although the information has been compiled from what Air Liquide believes are reliable sources (International Standards: Compatibility of cylinder and valve materials with gas content; Part 1- Metallic materials: ISO11114-1 (March 2012), Part 2 - Non-metallic materials: ISO11114-2 (April 2013), it must be used with extreme caution and engineering judgement. No raw data such as these can cover all conditions of concentration, temperature, humidity, impurities and aeration. It is therefore recommended that this table is only used to identify possible materials for applications at high pressure and ambient temperature. Extensive investigation and testing under the specific conditions of use need to be carried out to validate a material selection for a given application. Contact the regional Air Liquide team for expertise service.
More information
The initial measurements of the constituents of air, with the exception of argon, were improved and summarized in the early 1800s by John Dalton. Earth's atmosphere is 78.09 % nitrogen, 20.94 % oxygen, 0.93 % argon, and 0.04 % carbon dioxide with very small percentages of other elements (neon, helium, krypton, methane, hydrogen, xenon and radon).