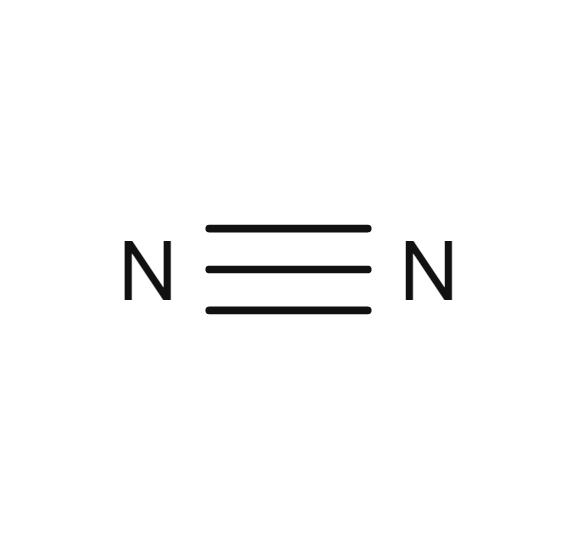 Nitrogen
N2

CAS Number

7727-37-9

UN1066 (gas)
UN1977 (refrigerated liquid)
Click & drag to move the molecule
Liquid / Gas Volumes
Calculate a liquid or gas volume or a mass
Liquid Phase
At boiling point at 1.013 bar
Gas Phase
In standard conditions (1,013 bar, 15°C)
Molecule phase diagram showing the transition phases between solid, liquid and gas as a function of temperature and pressure
Molecular weight

28.013 g/mol

Content in dry air

780840.00 ppm

Critical Point

Temperature

-146.95 °C

Pressure

34 bar

Density

314.02 kg/m³

Triple Point

Temperature

-210.00 °C

Pressure

1.252E-1 bar
Latent heat of fusion (at melting point)

25.702

kJ/kg

Melting point

- 210

°C
Boiling point

- 195.8

°C

Latent heat of vaporization (at boiling point)

199.18

kJ/kg

Liquid density (at boiling point)

806.11

kg/m3
Compressibility factor Z

9.9954E-1

Cp/Cv ratio γ

1.4019

Gas density (at boiling point)

4.611

kg/m3
Gas density

1.2501

kg/m3
Gas/(liquid at boiling point) equivalent

644.84

vol/vol

Heat capacity Cp

1.0414

kJ/(kg.K)

Heat capacity Cv

7.4291E-1

kJ/(kg.K)

Specific gravity

0.97

Specific volume

0.8

m3/kg
Thermal conductivity

24.001

mW/(m.K)

Viscosity

1.6629E-4

Po
Compressibility factor Z

9.9971E-1

Cp/Cv ratio γ

1.4015

Gas density

1.1848

kg/m3
Gas/(liquid at boiling point) equivalent

680.38

vol/vol

Heat capacity Cp

1.0414

kJ/(kg.K)

Heat capacity Cv

7.4301E-1

kJ/(kg.K)

Solubility in water

1.386E-5

mol/mol

Specific gravity

0.97

Specific volume

8.44E-1

m3/kg
Thermal conductivity

25.108

mW/(m.K)

Viscosity

1.7339E-4

Po
Compressibility factor Z

9.998E-1

Cp/Cv ratio γ

1.4013

Gas density

1.145

kg/m3
Gas/(liquid at boiling point) equivalent

704.03

vol/vol

Heat capacity Cp

1.0414

kJ/(kg.K)

Heat capacity Cv

7.4316E-1

kJ/(kg.K)

Solubility in water

1.183E-5

mol/mol

Specific gravity

0.97

Specific volume

8.734E-1

m3/kg
Thermal conductivity

25.835

mW/(m.K)

Viscosity

1.7805E-4

Po
Applications
Examples of uses of this molecule in Industry and Healthcare
Aeronautics
Nitrogen is used for heat treatment, welding or laser cutting. Nitrogen-filled tires have an increased lifetime.
Automotive
Nitrogen is used for heat treatment, welding or laser cutting. It also used to produce car pieces with gas assisted injection moulding process. Nitrogen-filled tires have an increased lifetime.
Chemicals
Nitrogen is used directly in chemical process as carrier gas, fluidisation agent or for temperature control and catalyst preparation. It also takes part in several applications in a petrochemical site: for blanketing, drying, purging, stirring, etc.
Electronic components
Nitrogen is used to provide an inert atmosphere, and is used for purging lines and chambers. Nitrogen is also used to carry / dilute materials into chambers. Nitrogen is used as a gas ballast for vacuum pumps.
Food
Nitrogen is used to chill, freeze or control temperature of food products. It allows to control temperature during transportation and distribution with indirect liquid nitrogen injection. Nitrogen preserves and protects foods with Modified Atmosphere Packaging (MAP) to minimize oxidation, micro-organism growth or package collapse. It is also used to protect liquid foods from oxidation through inerting, pressure transfer and deoxigenation.
Glass
In glass production process, nitrogen is used to dilute the hydrogen in the reductive atmosphere needed over the tin bath.
Hospital care
Nitrogen is used in dermatology and for cryo-preservation.
Laboratories & Research Centers
Nitrogen is used to purge, dry or blanket analyzers or chemical reactors (under gaseous state or at low temperature liquid state). Nitrogen can also be used as a carrier gas in gas chromatography for various industrial and hospital analyses and quality control. It is also a balance gas of the calibration gas mixtures for environmental monitoring systems and industrial hygiene gas mixtures.
Metal fabrication
Nitrogen is used for heat treatment and laser cutting.
Metal
Nitrogen is used for inerting and stirring in many applications.
Oil & Gas
For storage tanks and pipeline, nitrogen protects products and facilities (blanketing and inerting). It is also used in operations of snubbing/pigging, pipeline purging, cleanouts and leak test. For overbalanced drilling, nitrogen is used for gas lifting, fracking or fracturing.
Other
Nitrogen is used in heat treatment of various metals. It is a component of the mixtures used in carbon dioxide lasers. It is also used for pneumatic transportation of powdered flammable materials (charcoal).
Pharma & Biotech
Nitrogen is used for inerting, cryo-grinding, lyophilisation, drying, liquid phase transfer of products or synthesis intermediates. It is also used for cryo-condensation of waste gases and low temperature storage.
Other Hazards
Asphyxiant in high concentrations. Nitrogen, when in liquid or vapor state at cryogenic temperature can cause cryogenic burns on skin due to cold, which are very similar to a thermal burn.
Metals
| | |
| --- | --- |
| Aluminium | Acceptable |
| Brass | Acceptable |
| Monel | No data |
| Copper | No data |
| Ferritic Steel | Acceptable |
| Stainless steel | Acceptable |
| Zinc | No data |
| Titanium | No data |
Plastics
| | |
| --- | --- |
| Polytetrafluoroethylene | Acceptable |
| Polychlorotrifluoroethylene | Acceptable |
| Polyvinylidene fluoride | Acceptable |
| Polyvinyl chloride | Acceptable |
| Ethylene tetrafluoroethylene | No data |
| Polycarbonate | No data |
| Polyamide | Acceptable |
| Polypropylene | Acceptable |
Elastomers
| | |
| --- | --- |
| Buthyl (isobutene- isoprene) rubber | Acceptable |
| Nitrile rubber NBR | Acceptable |
| Chloroprene | Acceptable |
| Chlorofluorocarbons | No data |
| Silicone | Acceptable |
| Perfluoroelastomers | Acceptable |
| Fluoroelastomers | Acceptable |
| Neoprene | No data |
| Polyurethane | Acceptable |
| Ethylene-Propylene | Acceptable |
Lubricants
| | |
| --- | --- |
| Hydrocarbon based lubricant | Acceptable |
| Fluorocarbon based lubricant | Acceptable |
Materials compatibility
Recommendations : Air Liquide has gathered data on the compatibility of gases with materials to assist you in evaluating which materials to use for a gas system. Although the information has been compiled from what Air Liquide believes are reliable sources (International Standards: Compatibility of cylinder and valve materials with gas content; Part 1- Metallic materials: ISO11114-1 (March 2012), Part 2 - Non-metallic materials: ISO11114-2 (April 2013), it must be used with extreme caution and engineering judgement. No raw data such as these can cover all conditions of concentration, temperature, humidity, impurities and aeration. It is therefore recommended that this table is only used to identify possible materials for applications at high pressure and ambient temperature. Extensive investigation and testing under the specific conditions of use need to be carried out to validate a material selection for a given application. Contact the regional Air Liquide team for expertise service.
More information
Nitrogen was discovered in 1772 by Daniel Rutherford who called it "noxious air" or "fixed air". Antoine Laurent de Lavoisier isolated it in 1786. The name nitrogen comes from Latin "nitrogenium", where "nitrum" (from Greek nitron) means "saltpetre", and "genes" means "forming". Nitrogen is an inert gas with many industrial applications. It is liquefied by cooling at -320.8 °F (-196 °C/77.15 K). It is mainly found in the atmosphere, where it accounts for 78 % by volume of the air we breath. But nitrogen is also found in the Earth's crust (to a limited extent: in the form of nitrates, etc.), in organic form (in the living or dead plants and organisms), in mineral form (ammonia), thus contributing to soil fertility. In gaseous form, nitrogen is a neutral and colorless gas.